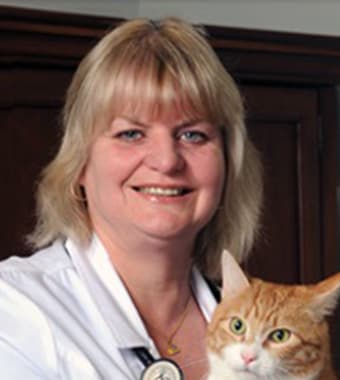 Dr. Cindy Meyer
Having graduated from Lindenhurst High School, Dr. Cindy Meyer received her B.S. degree in Animal Science from Oklahoma State University. Following her undergraduate studies, she attended Cornell University College of Veterinary Medicine and was awarded her Doctorate in Veterinary Medicine in 1988.
A general veterinary practitioner at Deer Park Animal Hospital since 1988, Dr. Meyer's professional interests include medicine, surgery and medical problems of exotic animals (ferrets, rabbits and guinea pigs). Interested in continuing education, Dr. Meyer is a member of the New York State Academy of Veterinary Medicine and the Long Island Veterinary Medical Association. She regularly attends continuing education programs offered through these organizations.
Dr. Meyer is married to John, an engineer / contractor whose hobbies include fishing and boating. Their family members include two children, Scott and Daniel, and a menagerie of pets. Some of the pets that they have accumulated over the years consist of dogs, cats, snakes, rabbits, tortoises, ferrets, prairie dogs, hedgehogs, and various reptiles.
Aside from her busy career and responsibilities at home, Dr. Meyer is able to find time for a few leisure activities. She enjoys baking, boating, traveling and reading.
New Patients Welcome
Deer Park Animal Hospital is accepting new patients! Our experienced vets are passionate about the health of Suffolk County companion animals. Get in touch today to book your pet's first appointment.