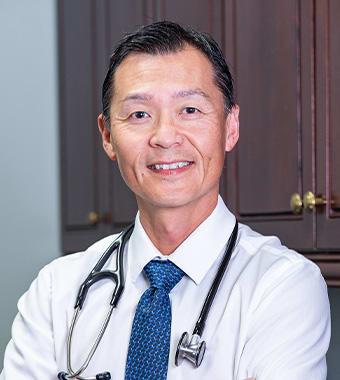 Dr. Jackson Chen
Dr. Jackson Chen was raised in Huntington Beach, California. He attended the University of California at Berkeley and majored in Integrated Biology. After completing his bachelor's degree, he went on to earn a master's degree in Laboratory Animal Science from Hahnemann University in Philadelphia, PA. His love and passion for animals led him to Ross University School of Veterinary Medicine. Upon graduation in 2004, he did an internship at Long Island Veterinary Specialty Hospital in Plainview where he rotated through the emergency, oncology, ophthalmology, dermatology, internal medicine, and surgery departments.
Dr. Chen also attended the Chi Institute in Florida where he became a certified acupuncturist. He started his veterinary career at a small animal hospital in Halesite, NY for many years. Then, at another small animal hospital in Malverne, NY for the past seven years. Now he joins us at Deer Park Animal Hospital with a wealth of knowledge and experience. He enjoys every aspect of being a veterinarian and has a special interest in ophthalmology, surgery, acupuncture and Chinese herbal medicine. On his spare time, he enjoys spending time with his son Tyler, as well as home improvements, gardening, snowboarding, working out, playing basketball and softball. He also speaks fluent Mandarin!
New Patients Welcome
We are accepting new patients! Our vets are passionate about the health of companion animals in the Deer Park area. Get in touch today to book your pet's first appointment.