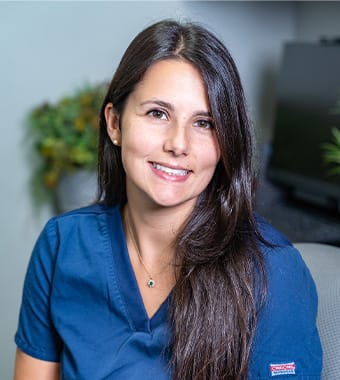 Dr. Veronica Morris
Originally from Syosset, New York, Dr. Veronica Morris grew up inspired by her family vet. She appreciated their compassion for animals and dreamed of one day being able to provide care to animals in her community. She attended Clemson University where she graduated in 2015 with a major in Biology and a minor in Animal and Veterinary Science. She then went on to graduate from the Ross University School of Veterinary Medicine in 2019, and completed her clinical year at Tufts University School of Veterinary Medicine. Dr. Morris came to Deer Park Animal Hospital in June 2020, specializing in dermatology and ophthalmology.
Dr. Morris has a wide range of experience volunteering all over the world. She worked with VIDA in Costa Rica and Nicaragua, as well as working at a Tiger Conservation in India and taking wildlife conservation classes in South Africa. Dr. Morris loves caring for animals of all types and sizes, and she is happy that she gets to utilize her experience here at Deer Park Animal Hospital! She is such an important part of our community because she helps to keep our patients healthy and safe.
At home, Dr. Morris has a Pomeranian named Cashew, an English springer spaniel named Klara, a cat named Onyx, and a horse named Bandit. She loves to go horseback riding, go out to dinner, travel, and spend time with family. She has a loving husband named Tom who works as a Financial Consultant, and they have recently welcomed their first child this year!
New Patients Welcome
We are accepting new patients! Our vets are passionate about the health of companion animals in the Deer Park area. Get in touch today to book your pet's first appointment.